Agege Bread Easter Ad: IMC Pros Knock Sterling Bank, Remain Divided Over APCON's Intervention
"Why Sterling Bank could have made such an 'obvious' gaffe"
When Sterling Bank in its usual "wokeness" of using street lingua to connect to Nigerians sent out Easter felicitation emails with the copy, "Like Agege bread, He rose", they may not have envisaged the level of the backlash they are receiving.
The bank may have hoped that just like it did last year at Easter, it could stir up the social media with a message that is at best, 'unforgettable'. Recall the bank had jumped on Davido's "who dey breeeet" trend and "e restrict my airflow" by Wizkid, to stir up social media to its advantage.
Just as planned, it created an unforgettable copy quite alright but not exactly the way it may have hoped. Like other brands, Easter has been an avenue for `brands to spread their felicitations in the spirit of the holiday and yesterday was no different. But Sterling's which was reportedly also sponsored in some print newspapers perhaps remains the most memorable of all, and for obvious reasons.
The outrage over what many have termed 'insensitive', 'distasteful', 'a mockery', among other synonyms is not limited to Nigerians across social media alone. Indeed, industry professionals in the marketing communications sector have also taken to different platforms to air their opinion and this is an aggregation of some of them.
In trying to rationalise why Sterling Bank could have made such an 'obvious' gaffe, Akin Adesola, Managing Creative Director for the Newton Project Room boils it down the narrowing of a perspective that was not widely explored. "…the Copywriter obviously meant well, did some measure of research, found an interesting angle and sold it well to the agency and client teams.
"Christians would be well familiar with Jesus's reference to himself as "the bread of life," and at Easter, what better way to milk the significance of that characterisation than by making a direct reference to it? So, from a creative point of view, we have a hook. Which is brilliant. The problem here I suspect is that in the excitement of having "cracked" the brief, the same amount of thoughtfulness was not retained for the execution. One might even argue that there was a measure of overthinking the execution. While there a good insight was uncovered in the creative process, sadly, the execution failed."
"Sterling Bank goofed, the idea to have a streetwise advert was poorly done."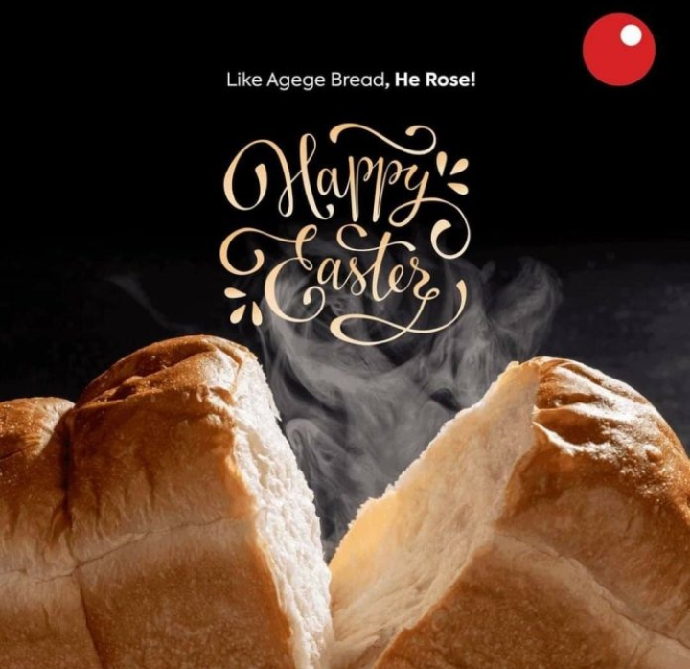 Referring to the bank's penchant for the unconventional in its messages especially on social media, Peter Oluka, Publisher of TechEconomy agrees that the copy by the bank is a fluke but noted, "sometimes even by a dint of luck, flukes like this could turn out to be a flash of brilliance."
But Francis Adebayo, an Administrator with 3DOT Communications Limited insisted there could not have been a 'flash of brilliance in that kind of ad.' "Sterling Bank goofed, the idea to have a streetwise advert was poorly done." Oluwatosin Baiyewu, Senior Business Development Manager for ASL Group in agreement adds, "Be controversial all you want…great strategy if it works. But there are lines you should never cross- religion is one of them."
"To me, this is the peak of aberration and dumbness. I am disturbed at the depth of ineptitude, shoddiness, and insensitivity of a brand in making such a grave and dangerous comparison. Sterling Bank and motleys of individuals who have reduced Christ's resurrection to a rise of a dough of bread often raised with yeast and bromide need to be reminded that they erred grossly in their comparison. Christ's resurrection differs greatly from the rising of Agege bread.
Augustine Iwelu, CEO of ZD.MS-a strategy themed consulting firm with focus on marketing and other areas, corroborates this with his opinion that the copy is 'creativity gone wrong'. "Obviously they didn't mean any harm. The criticism from the advert can enable them to rethink and issue an apology. There is no correlation between Agege bread and the season. Wrong thought process, weak creativity!"
"Beyond religiosity, a corporate faux pas"
Ikem Okuhu, a brand and marketing analyst and author of 'The Pitch' is even more emphatic with his position on the matter: "The Agege bread ad is in pure bad taste and offensive to the sensibilities of Christians. How can Christ be compared with Agege bread? …and the idea of presenting it in the past is much more terrible! The choice of "rose" is an attack on the very essence of Christianity. Or was that about the bank rising? He queried.
Touring the same path, Former Managing Director of Champions Newspaper, Ugo Onuorah declares, "My greater anger is the parallel with the lowest grade of bread. Imagine the temerity and impudence and impunity. Agege bread. If the shoe were to be on the other leg, Sterling Bank would by now be counting the number of their branches and regional offices which have been torched. Here, we are minded to turn the other cheek.
But Kola Ogunshote, a PR and communications professional who was a former Senior Manager, PR for Globacom says the issue goes beyond religion. "Let's forget religion and religiousity. The ad is a corporate faux pas. It is about sensitivity and corporate social responsibility. In a nation where almost 50% of the population are Christians, they will feel the response in their bottom line. There's no need to argue. This is why metrics are important. I would have loved to see their web and social media metrics. Why do you think they apologized?
Among these din of voices, Clara Okoro, Chairman of the Brand Journalist Association of Nigeria (BJAN) says the copy is apt in context. "I am the Bread of Life" in the context of Nigeria this Bread is a fitting description of Jesus feeding the multitude. Not only apt in contextual fit but a glocal arc. Jesus won't mind. He sat with Fishermen and the likes who feed on Agege bread daily."
Kehinde Makanjuola, a marketing professional and Managing Consultant of Dictum Plus Nigeria insists that the bank couldn't have committed the error working collaboratively with an agency. "I'm sure the Bank with Agege bread analogy doesn't have any agency handling their account. That "razz" concept seems like an in-house (we can do it cheaper) way…shame!"
Taking to his various social media handles to express his opinion on this, Chido Nwakanma called for the removal of the bank's corporate communications team. "Unless they are equally complicit, the Management of Sterling Bank should clear its Corporate Comms team on Tuesday. Everyone involved in preparing and placing that obnoxious ad that pokes noxious fingers into the eyes of all Christians in Nigeria should not be involved in communications one day extra. …A corporate entity such as Sterling Bank signs off on an ad that compares the basis of the Christian faith to Agege Bread. It is the height of idiocy! It is an offensive joke."
 An Apology or a non-apology?
Given the time that the emails were sent and the outrage on social media, the bank in a swift move tendered an apology across its social media handles and as emails to its teeming customers. The swiftness of its reaction got some people saying that the entire scenario was planned with the expected outcome and a follow up apology.
But the apology has equally been met with backlash by customer and experts alike. Sola Salako, President and Founder of the Consumer Advocacy Foundation of Nigeria opines that the apology smacks of arrogance. The line on casting stones, she says completely spoils the attempt at a heartfelt apology.
Nwakanma agrees with her on this. "Then Sterling Bank worsens the offence by offering a non-apology. The uninformed copy asks us to "Forgive in the Spirit of Easter" but confirms they are not sorry. It states, "Let the one who has never sinned throw the first stone". Foolishness!
""For our recent errors, we sincerely apologize. We humbly celebrate his resurrection, the defeat of death and the hope of salvation" (Please prefer "apologise" with an S for UK English in Nigeria!). Which dullards did this? Is it because Christians have few bomb-throwers and arsonists?
"Remember that Sterling Bank committed a similar offence with its "In shooting for the moon, men become stars" ad. It similarly apologised. Is that the Sterling Bank tradition? Put two feet in the mouth and then say sorry? Not good at all.
Is APCON 'Overstepping its boundary'?
In a swift response to the incident, the Advertising Practitioners Council of Nigeria (APCON) in a recent statement said it will sanction Sterling Bank. The statement signed by its Registrar/Chief Executive, Dr. Olalekan Fadolapo, had described the advert as insensitive and provocative.
"APCON has observed with displeasure the insensitive and provocative Easter Celebration advertisement by Sterling Bank which compared the resurrection of Christ with Agege Bread.
"The distasteful advertisement was neither submitted or approved for exposure by the Advertising Standards Panel (ASP), the statutory panel charged with the responsibility of ensuring that advertisements confirm with the prevailing laws of the federation as well as the code of ethics of Advertising in Nigeria." It added that APCON will take necessary actions to ensure that Sterling Bank is sanctioned for the exposure of such offensive advertisement.
But this development is not going down well with some stakeholders in the IMC industry. Though some have said the development heralds a new era in the censorship and regulation of social media, others feel that the regulatory body may be overstepping its jurisdiction.
One of the most vocal of these persons is Jide Benson, a PR practitioner and Managing Director of CAST PR. This comes to me as grandstanding. APCON cannot sanction Sterling Bank. It can only sanction the agency that did this. APCON's business is with advertising practitioners not financial service providers.
"In addition, the controversial copy is a social media post and a goodwill message. I'm not aware that APCON laws have been reviewed to include regulation of Social Media and goodwill messages. If that were the case, the copy would have required vetting before release. APCON is merely jumping on the bandwagon.
Also lending his voice to this, Akin Adesola feels APCON response sounded rather reactive and threatening. "Perhaps APCON has allowed itself to be caught up in the frenzy of the moment. Perhaps a more measured response would not have elicited such attacks from within the advertising fraternity.
"Suppose APCON had simply put out a message saying "we have received numerous complaints from the public…" that would have legitimised their response in the first place and given them the moral justification for looking into the ad. The ASP is not established only to vet adverts before exposure, but to also respond to complaints after the ad has flighted.
"The reason for this is simple: no matter how well you might have vetted an ad, there is a possibility that someone's sensibility might be offended. And that only emerges after the fact, not before. There are many perfectly good adverts that have been killed by APCON simply through vetting, whereas they should have waited for the audience reaction before deciding whether the material should be pulled or left to run."
In countering this line of thought, Oluwayemisi Adekunle, Corporate Affairs and Communication Lead, West Africa for Pfizer feels APCON was not reactive. "It may not be appropriate to adjudge APCON style of actions as reactive. Cases of violations of APCON enabling Act and the Code of Advertising Practice, like most other laws, do not mean that measures are not being taken to prevent such violations before they occur.
"The introduction of the Advertising Industry Standard of Practice (AISOP) was one the recent proactive measures by APCON to ensure business growth in the Advertising industry while reducing the level of arbitrariness in the actions of stakeholders from any particular sectors jeopardising the interests of any other sector within the Advertising ecosystem." She adds, "APCON had already engaged the Nigeria Copyright Commission and will liaise further with them on cases of breach or violations of copyright laws in Advertising."
Adedayo Adefila, Head, Digital Strategy Africa for PZ Cussons says beyond the intervention of a regulatory body, self-regulation is important. "Generally, advertising regulation best practice in developed climes is a mix of self-regulation and institutional regulation. This is beyond the issue of whether it is digital or traditional.
Self-regulation however means that there is a strong culture acceptance and value for professionalism in the discharge of Marketing and marketing communications. Both remain intertwined. I think that's a very necessary place to start- ensuring that our practitioners – marketers and agencies have truly professional practitioners.
Both APCON and the National Institute of Marketing of Nigeria must continue to accelerate capacity building and standardisation efforts to drive minimum compliance per best practices. We really can't escape the above professional development to achieve a more pro-active situation in which more people leading brands and at agencies know and apply the right principles with known codes of advertising practice available as requirements and guides. Is our system in Nigeria ready for it? It already practices it but the professionalism from developed capacity is low."
Damage Control
Realising that the follow up apology it made almost immediately after further fuelled anger among Christians, the bank through its Chief Executive, Abubakar Suleiman, on Monday tendered an unreserved apology.
Suleiman, while admitting the error, stated that they had no malicious intent to compare Jesus' resurrection with the puff-up of Agege Bread. The apology letter read, "On behalf of the Management and Staff of Sterling Bank PLC, I write to tender our apology to our community for our Easter message email of 17 April 2022.
"The content of the infographic and the message it contained was insensitive and failed to consider the very sober nature of the event being commemorated, the resurrection of Jesus Christ. While the message had no malicious intent, there is no place for content that fails to fully account for the feelings of billions of people all over the world.
"Our honest intent was to join our millions of customers in Nigeria and worldwide in celebrating this sole event, but our execution fell short on this occasion. Our policies are clear on what constitutes acceptable customer communication and this message should not have been released to our customers. On this occasion, our editorial processes fell short of our policy standards.
"As a responsible institution, we immediately withdrew the offensive material and initiated a review of the circumstances that led to this failure. We will further sensitize our workforce to ensure this unfortunate lapse in judgement never repeats itself.
Although the apology from the top echelon of the bank has been described as the right way to go, industry professionals feel that the bank will need to do more than penning rhetoric on paper. Jide Benson gives a suggestion: "As a damage control measure, Sterling should pay an apology visit to CAN and PFN leadership and in addition, issue a statement apologizing to CAN and PFN. The leaders of the faith won't ask for an arm and a leg. The matter ends and Sterling would have learnt their lessons (if they want to).