Ecobank: Promoting African Creativity With PADE
Walking into the lobby of the Ecobank Pan African Centre (EPAC) on day one of the Photography, Art, and Design Exhibition (PADE), the first sight that greeted me was that of the young Waris Kareem Olalekan confidently seated and poised on a stool doing a pencil sketch of Mr. Jide Sipe, Head, Marketing and Corporate Communications for Ecobank. The sketch was so uncannily accurate that you will have no doubt who the subject of the painting is.
Kareem, now 15, was the 11-year-old sensation that drew a stunning portrait on a canvas in just about two hours of the French President, Emmanuel Macron, in July 2018, during the latter's visit to Fela Kuti's new Afrika Shrine. The hyperrealist artist who, since his feat in 2018, has become an art ambassador for Ecobank, was among the assemblage of creative influencers in photography, visual arts, vocal and dramatic arts, and designs who were at the maiden edition of the Photography Art and Design Exhibition (PADE) to exhibit their art.
PADE is a three-day event which held between Friday 19th and Sunday 21st August 2022 with the theme "A Canvas for Africa's Creatives". It was curated by Ecobank, a pan-African conglomerate with operations in 36 African countries. Amongst the activities that marked the fun-filled event are the photography walk which commenced from Tafawa Balewa Square (TBS) bus terminal and ended at the bank's head office complex-EPAC on Ozumba Mbadiwe Avenue, Victoria Island; an exhibition, and master classes among others.
There was also a photography masterclass that had such facilitators as veteran creative photographer, painter, and artist, Kelechi Amadi -Obi; Pocket Lawyers, Ngozi Nwabueze; ace Photojournalist, Pius Utomi Ekpei, Agence France-Presse (AFP); art photographer, Augustin Udoh, and a creative director/photographer Yemi Disu. They were full of praises for the Pan African bank, stressing that such massive support and partnership from corporate organizations would further stimulate the growth of the art and business of photography.
The free-to-attend event which also offered free exhibition booths to creatives witnessed a rich turnout of attendees can best be described as a total package with sights and sounds that did more than captivate and mesmerize. Side attractions including games, photobooths, performances, VR station for kids, and 3D virtual art displays, among others were made available to make it an unforgettable event.
According to the bank, PADE which began on a day set aside to celebrate world photography day is one of the ways through which it is supporting the creative industry in Nigeria. The Managing Director and Regional Executive, Ecobank Nigeria Limited, Bolaji Lawal who reiterated this assured us that the Bank will continue to provide a platform for harnessing and powering the creative industry in Nigeria.
He restated the bank's commitment and determination to contribute to sustainable economic development, working with the youths, local community, and society at large to improve the quality of life, in ways that are both good for business and national development.
Mr. Lawal, who was represented by the Executive Director/Chief Risk Officer, Biyi Olagbami observed that Nigeria has an assemblage of articulate and creative minds who have demonstrated love for the profession and are telling the African story in many ways through their lenses, arts, and designs and that as a Pan African bank, part of Ecobank's vision is to serve as a platform for harnessing and powering the creativity of the African continent.
According to him, "For us as a bank, we decided to commemorate the World Photography Day, understanding it was an opportunity to help showcase the brilliance of Nigerian creatives to the world. It is part of our current strategy as a Pan African Bank to sustain our legacy as a foremost supporter of the creative industry in Nigeria, providing a platform for harnessing and powering creative talents on the African continent".
Corroborating him, Jide Sipe added that PADE was conceived by the bank to help showcase the brilliance of Nigerian creatives to the world. He explained that the exhibition is part of the bank's current strategy as a Pan African Bank to sustain its legacy as a foremost supporter of the creative industry in the country, noting that it provides a platform for harnessing and powering the creativity of the African continent.
"A lot of people do photography exhibitions, while some others do art exhibitions. But this is the first time an organization is setting up a photography, art, and design exhibition. We believe that they belong to the creative industry and there's a need to connect with those people and make them understand that we support them, support their talent and we desire for them to grow. And that is why we are giving this opportunity to people in the creative industry to be celebrated and to be promoted.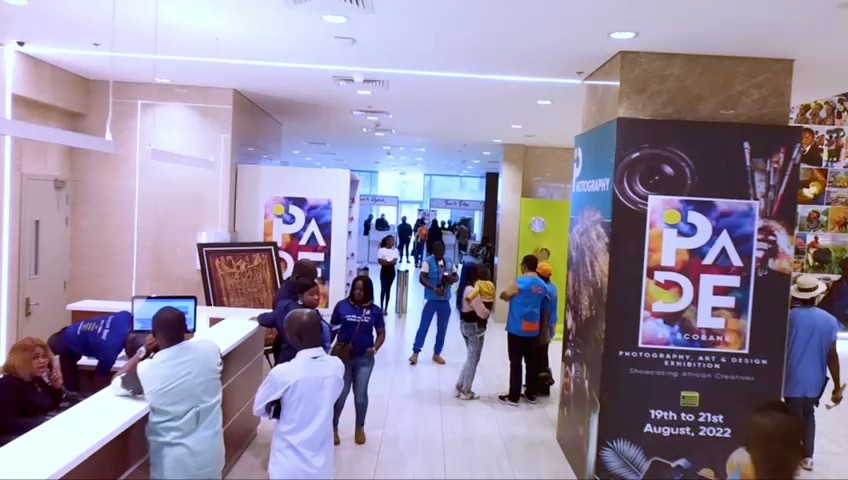 "We have about 50 exhibitors both virtual and physical. Everything done here is free of charge to the exhibitors. We also invited millions of our customers so they can buy from their artwork and to also make connections with some of the photographers."
Sipe further revealed that PADE has come to stay: "PADE is going to be an annual event. Earlier this year, we had an elevated exhibition that was focused on women's businesses. We had an Adire exhibition which was also to promote local fashion, now we are having Photography and Art Exhibition. Every year as long as photography is been celebrated, we will always have Photography Art and Design Exhibition.
Beneficiaries at the exhibition were also full of praises for the bank for the initiative. Olumide Emmanuel, a visual artist and body artist is one such beneficiary. For the artist who is also the Creative Director of Caesars Empire, the opportunity to exhibit is a game changer. "As an artist, organizing exhibitions and going for exhibitions are things that are essential to our career. This is a very veritable platform. I must commend the bank for specially doing this for us…free of charge!"
Shedrack Alabi is a photographer and a videographer based in Lagos. Alabi's excitement at being part of the event is palpable. "Being able to be here with my fellow photographers and visual artists, to connect and network with them beyond photographing is a privilege I do not take for granted. This is beyond imagination. I didn't imagine it was going to be this big. This is exceptional!
Ecobank's continued commitment to creative industries did not start with PADE. Its commitment is one that has been endorsed by French President Macron sometime back. Recall Ecobank sponsored the launch of the French Season of African Cultures in 2020 in Lagos. The event was attended by Emmanuel Macron, President of France, who was fulsome in his praise for Africa's culture and its creative industries.
The event, entitled 'A Celebration of African Culture' was held at the New Afrika Shrine – which was the home of the legendary musician and composer Fela Kuti – focused on Africa's rich and diverse cultural heritage and honoured Africa's creators of art, design, film, and fashion.
The then Managing Director of Ecobank Charles Kie said: "President Macron's support is indicative of African cultures' growing international influence. Whether it be blockbuster films such as Black Panther, our global superstars in the music industry, our artworks in the top international auction houses, our models gracing the premier fashion catwalks, or our dance and our food, Africa's culture is having a huge impact on the global stage. Africa's creative industries are a vital ingredient of our continent's economies in our relentless pursuit of increased diversification and global competitiveness."
"Ecobank's digital strategy is fully centred on bringing financial integration and inclusion to the African continent and our innovative products such as the Ecobank Mobile App, the Xpress account and Ecobank Pay are all empowering African consumers and business alike by providing the 24/7 functionality, convenience, accessibility and instantaneous transactions that they need. Ecobank is totally committed to playing its part in supporting the development of businesses and trade that will bring sustainable growth to African economies and provide the bedrock of increasing prosperity for all in Africa."