2023 General Elections: Another Time for Politicians to Seduce Electorates
Let me start by stating this fact: the forthcoming General Elections in 2023 would be different from previous elections in terms of scale and expenditure which will pose more challenges for the Independent National Electoral Commission (INEC).
The Chairman of the Independent National Electoral Commission (INEC), Professor Mahmood Yakubu knows this and has charged the Resident Electoral Commissioners (RECs) to raise the bar by addressing re-occurring logistics issues experienced during previous elections and ensure that the forthcoming general elections are different in terms of preparations and delivery.
The electoral umpire is leaving every stone unturned in ensuring that every eligible elector is registered through the Continuous Voter Registration exercise and working on expanding voters' access to Polling Units and embarking on consultations with key stakeholders.
The Nigerian General Elections into the offices of the President, Vice President, Senate and House of Representatives will hold on February 25th while the twenty-eight gubernatorial elections will be held alongside elections to state houses of assembly nationwide on March 11 next year.
The primaries have been concluded and party flag bearers emerged through indirect primaries. The major contenders for the exalted of the president include the Former Governor of Lagos State, Bola Ahmed Tinubu of the All Progressives Congress (APC); Former Vice President, Atiku Abubakar of the People's Democratic Party (PDP), Former Governor of Anambra State, Peter Obi of the Labour Party (LP), and Former Governor of Kano State, Rabiu Musa Kwankwaso of the New Nigeria Peoples Party (NNPP).
If the antecedents of these aspirants are anything to go by, the people will witness their attempt to outdo each other in trying to seduce the system and nation with their common touch and campaign promises. And I am willing to wager that there will be no dull moment once the national campaigns kick off. If truth be told, the excitement has begun leading to the primaries. Politicians, the world over, aims to be engaging and captivate their audience whenever possible. In fact, the people and media expect them to be entertaining, as well. If it is lacking, they will create it for them. The candidate who refuses to entertain is perceived boring.
How to Seduce the Electorates
Robert Greene in the famous book: The Art of Seduction, posited that seduction is a game of psychology, not beauty, and anyone can master the art. According to him, what will seduce a person is the effort we expend on their behalf, showing we care and how much they are worth. He added that, "Every seduction has two elements that you must analyze and understand: first, yourself and what is seductive about you; and second, your target and the actions that will penetrate their defenses and create surrender."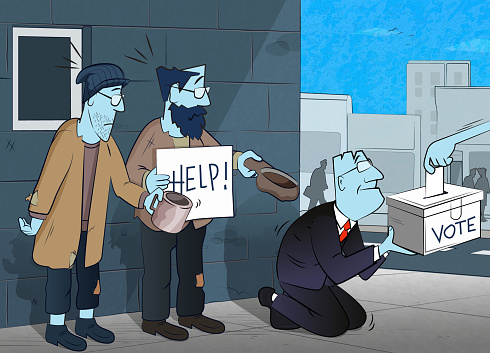 Any campaign team can leverage the following to seduce the electorates:
Adopt a Campaign Logo: Choose suitable colours for the campaign logo as well as inspiring taglines to be used on all communication materials. The electronic versions of the files will be available for use digital engagement.
Optics and Theatrics are Important: Campaign is a performance to seduce people to vote in your favour. Associate the candidates with pretty pictures. Organise photoshoots for them by professional photographers in major cultural outfits including corporate wears to connect with different stakeholder groups. When in public, put them in a position of commanding authority.
Activate Campaign of ideas / Focus on Issues: Focus should be on the common themes that concern us and shared values that inspire and advance the nation. People vote for people that represent a vision of a better future.
Stagecraft is Important: Ensure that the technical aspect of the roadshow is well planned. This includes audiovisual equipment, stage management, lighting scenery and props all billed to flatter the image of the aspirant.
Messaging: The key to seduction is messaging. It is important to have a strong overarching consistent message that appeals to the majority. What will make it stronger is repetition, repetition and repetition until it permeates the national consciousness. Translate speeches into major languages. It must align with the purpose of your candidate and the mood and desires of the electorates.
Debates & Podium Discipline: Every public appearance is an opportunity to make spellbinding speeches and interesting campaign stunts to seduce. Efforts should be made to ensure that no other party distracts when the aspirant is on the floor.
Be the Media Darling: Your candidate must cultivate media communities and understand the topics that interest them. Strive to provide top quality, evidence-based and relevant content and expose the media to holistic experiences including providing a full spectrum of support. The media expects politicians to be knowledgeable and compassionate.
Access to Campaign Office & Resource: The electorate should be able to access to your campaign office which must be manned by trained personnel who can entertain inquiries.
Recruit Volunteers: Volunteers are your ambassadors promoting civic engagement and ensuring voters are registered and can cast their ballots. They important to push campaign agendas and activities.
Use Social Media Effectively: Engage the online audiences with regular content that will resonate with them and monitor/listen effectively to follow the conversations.
Fundraising: It is important to have sufficient money to meet campaign always needs. It is the fuel that makes the campaign engine run. Ensure that adequate time is dedicated to fundraising by your candidate.
Availability of Campaign Collaterals: Produce materials in sufficient quantity to meet the needs of the campaign. These include posters, signages, brochures, backdrops, banners, stickers, etc.
Create a Campaign App: aside the website, the candidate can also create an app downloadable on smartphones to interact with their target audience.
After all said and done, be consistent in your messaging and everything that comes out of your campaign office including literature, speeches, and appearances.
Segun Mcmedal is a public relations practitioner that works in partnership with businesses and non-government to build and safeguard their reputation with key stakeholders.